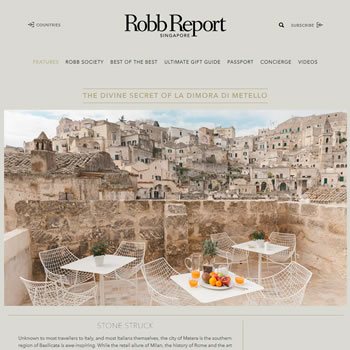 ROBB REPORT SINGAPORE
-
Sam Yen 17th December 2016
Link:
robbreport.com.sg/2016/12/17/la-dimora-di-metello/
Unknown to most travellers to Italy, and most Italians themselves, the city of Matera is the southern region of Basilicata is awe-inspiring. While the retail allure of Milan, the history of Rome and the art of Firenze are greater magnets, it is difficult not to get swept away by the imposing tumble of stone buildings that form Matera's historical core of Sassi and the charismatic new hotel within its walls, La Dimora di Metello.
There is plenty of reason to come here. Inhabited since the Paleolithic times, the stone dwellings – Sassi is short for Sassi di Matera, or the stones of Matera – are founded on land that hosted the first-ever human settlements in Italy. Built on the side of a ravine carved out by the Gravina river, it is now a UNESCO World Heritage Site, a title that has conferred benefits – alleviating endemic poverty by attracting tourism. It's easy to see why. Squint, and you could imagine Romans, Normans, Byzantines and Crusaders marching through the streets and stairways of Sassi, gripping poles with pennants framed by ancient churches. Hollywood, in fact, has used Sassi as a stand-in for ancient Jerusalem plenty of times. Matera has also been named the European Capital of Culture for 2019, which should set off another influx of culture-hungry tourists.
All those visitors will need beds to sleep in. The discerning are advised to check into La Dimora di Metello, a dramatic if diminutive hotel in the heart of Sassi designed by Manca Studio. The siblings behind the project, Alfredo and Marina, are natives of Matera who returned to their birthplace after studying architecture at university.
Housed within a protected Sassi building, La Dimora di Metello is tiny – with only four suites – but packs a visual punch. Strict municipal regulations meant additions were scarce, but the siblings have still managed to invoke a divine atmosphere within the rooms carved out of indigenous volcanic rock. With a colour palette that echoes the hues of Sassi itself, lights by Jasper Morrison, Achille Castiglioni and Pio Manzù illuminate a space populated by Christophe Pillet white chairs and tables, as well as pale oak furniture. Glass and modern plaster walls are interspaced between the original walls, creating an ethereal grotto that just radiates calm.
Outside, a reception, dining area and a spa complete the interior, with the same level of immaculate polish. Then there is the terrace, which offers spellbinding views of Sassi. Shades of chalk, white, beige and grey dominate in the afternoon, migrating to amber and pink when the sun is low, then to a gleaming silver in the light of the moon. From this vantage point, it is easy to see what makes Matera special and why La Dimora di Metello is such a special place to enjoy it.