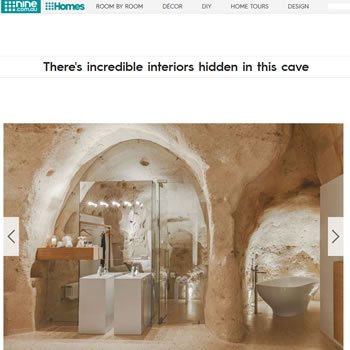 NINE.com.au
-
September 9, 2016
Link:
homes.nine.com.au/2016/09/19/15/59/modern-little-italy-cave
Nestled in the hills of Southern Italy, these world famous cave dwellings have long been attracting tourists by day. Now, the interiors have been given a modern makeover by architects at Manca Studio to create the ultimate place to spend a night: La Dimora di Metello Hotel.
Manca Studio created a modern and refreshing crisp white palette inside the 300 square metre dwelling. Mirrors and hanging lamps are positioned just right to add depth and make the most of the natural light.
Each of the hotel rooms has its own quirks. The walls are rock formations created from volcanic ash, a layer of plaster enhances the existing texture. Wooden furniture was chosen to complement the neutral interiors of the caves.
While accents of black were added in the decorative pieces to add a minimal yet modern touch to the interiors. The combination of the history and natural textures of the caves juxtaposed against contemporary furniture pieces creates a luxurious and inviting space to stay.
The balcony overlooks the beautiful scenery of the historical town of Matera. These famous cave-dwellings were once churches and homes for the locals. Now, there's a spa, living area and four suites.