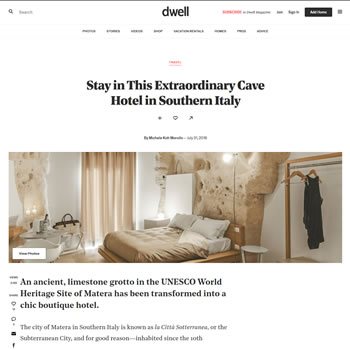 dwell.com
- 31 Luglio 2018 - Michele Koh Morollo
Link:
www.dwell.com/article/matera-italy-sassi-hotels-cave-cabcd85f
An ancient, limestone grotto in the UNESCO World Heritage Site of Matera has been transformed into a chic boutique hotel.
The city of Matera in Southern Italy is known as la Città Sotterranea, or the Subterranean City, and for good reason inhabited since the 10th millennium B.C., its historical center is made up of a series of limestone caves. This area, known as Sassi, was declared a UNESCO World Heritage Site in 1993.
With the goal of creating a dialogue with the context and history of these caves, architects Marina and Alfredo of local firm Manca Studio redesigned and refreshed the interiors of a subterranean house and transformed it into a sleek, four-room hotel and spa named La Dimora di Metello.
In Sasso Barisano, one of the two Sassi districts in Matera, just off a historic street called Via Fiorenti, is La Dimora di Matello, which translates to "The house of Metellus." The cave house has been transformed into an atmospheric, four-room hotel and spa that beautifully melds modern design with history and nature.
"All spaces, both internal and external, were restored and designed to accommodate all the new features of the hotel with harmony and comfort," says Marina.
Manca Studio hired skilled workers with experience in historical restoration to recover the cave dwellings and repurpose the chambers into comfortable, elegant public areas and four intimate, romantic suites.
The single-level hotel and spa is spread across 3,229 square feet, and includes a reception hall, a spa, and four bedrooms that all have access to an outdoor terrace.
"We believe that for a hotel such as this, in such an important historical site, the biggest challenge was to be able to intimately link the space to the traditional and cultural values of the place, to provide guests with a unique and unforgettable experience that will inspire them to learn more about the city of Matera," says Alfredo.